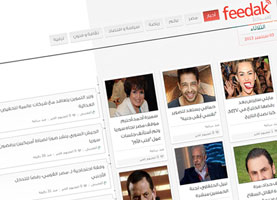 Sun 3 August
Feedak Enhance Your Source Of Knowledge And News.
Posted by
icloudit
in
projects
Comments:
no comment
Feedak.com portal enable users to stay up-to-date with the latest news by customizing and personalizing their news feed from various arabic news sources, including sources from newspapers, TV channels, blogs ,  and technology, digital newspapers . Those sources available from various countries across the Middle East.
Its currently on its beta version , and we will make clone for specific countries like ( Egypt , Saudi Arabia , UAE  and more ).
Feedak.com Take the 1oth please in techwd-award